Rug Gallery and Weaving Demonstrations
Since 500 B.C. the Zapotecs of the central valleys of Oaxaca have been weaving and trading their textiles, originally made from cotton, all over Latin America. After being conquered by the Aztecs and then the Spanish they were introduced to the wool of the Merino sheep which is prized for it's long fibers; making the process of spinning easier and giving additional strength to the fabric. The weavers in Teotitlan today source their best quality wool from San Bartolo Chichicapa in the Mixteca region of Oaxaca.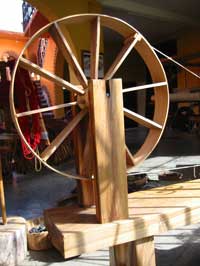 The standing two-pedal looms were also introduced by the Spanish who taught the Zapotec men how to use the foot pedal. This significantly increased the speed at which the shuttle could be sent through the warp threads.
For a rug to be of top quality, it would be tightly woven (somewhere in the region of 20 threads per inch) to ensure that the rug keeps its shape longer and looks better. Most rugs are woven on a cotton warp which gives more strength, however, all-wool rugs are softer and have more body. A good rug would lie completely flat, whether on the floor or hanging on the wall, and would always have straight edges.
Names of the Major Designs
Candles
Caracol (Snail)
Eye of God
Eye of God with mountains
Mountains and Rain
Number 10
Teeth
Wind and Rain
Zapotec Diamond
Contents of the Wool

Cotton warp and nylon weft for strength
Wool and Mohair

Fine Rug Care

A few special techniques will help your new rug last a lifetime. It is handmade art but not fragile. Regular vaccuming will keep dirt from lodging in the fibers. However, regular shaking outdoors is even better. If you vaccum it, run the machine perpendicular to the warp to avoid stretching it. Although color fast in water, the colors will fade slightly over time if in the bright sunlight. An occasional steam clean will keep your work of art fresh and clean, but please avoid harsh chemicals as the PH of strong detergents can change the colors of natural dyes. Your rug can also be cleaned by a carpet dealer who has experience with naturally-dyed carpets like Turkish Kilims and Persian Tribal rugs.


Testimonials:

Feb 17 2004
Ustedes hacen un trabajo extraordinario y ademas son personas muy lindas y admirables. Fue un gusto conocerles y vamos a gozar mucho de nuestro tapete.
Esther Allen, Kim Landsman, Theo y Jacob (estherallen@cs.com)

Feb 16 2004
Wonderful art and beautiful rugs - thankyou for sharing your knowledge and talent with us.
Jayne and Bud, San Antonio, TX.

Feb 10 2004
A wonderful afternoon at your workshop and an experience to remember in every way. All that goes into creating your amazing carpets is truely remarkable. Thank you.
Glen and Marie Luft, Portland, Oregon.

Jan 30 2004
" Thank you for your extreme patience as we debate colors and sizes! We very much appreciate your talent and the beauty of your creations. "
Barbara and Richard Walton, Napa, California

Jan 21 2004
" Wonderful, Wonderful, Wonderful! I can't say enough how beautiful the rugs and this place are. And delicious food too! Thank you! "
Janet Goodbaw, California

Jan 2004
" Maribel and Demetrio, How enchanting your home and life's work are to behold. And now I take home a gift of your souls. Thank you. "
Nick Lovall, Woodland, California
" Thankyou so much for the excellent lunch and then the fascinating explanation of creating dyes, carding, spinning and weaving. You do excellent, beautiful work and are a true artist. "
Julia Venke, Cedar Rapids, IA
Dec 2003
" You are a wonderful artist and teacher. Thank you! "
Howard and Randy Roth and family, (hroth@midwestheart.com)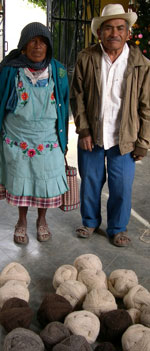 Shepherds from San Bartolo Chichicapa delivering
the region's best quality natural-colored wool
~ ~ ~
ZAPOTEC WEAVER
by LUDWIG ZELLER
I was formed upon this loom, from eternity my bones support it,
I feel the animal that grazes in my marrow and bleats, enveloped in the cold.
Millennia ago I wove all this, and life carded the wool inside me,
Dividing it into threads as a woman's fingers divides the mist.
Yet this, my time, belongs to the Other. Years pass like water,
And beyond father's fathers hums destiny's repeating weft.
Colors open colors close before me and the tapestry extends itself
Like a river in all directions, a dream without an end.
My mother wove: I saw, and nursed from her thread that my wife weaves
Day after day through implacable seasons that fold us over,
Bend us toward the dust and erode us: multiplied into children,
Love's outcry sets fire to a closed horizon of narrow alleyways.
Walls of warm adobe, my days are made of melancholy sweetness
And they call out - I hear them - to the sleepers lost in the night
Of someone who weaves. Sometimes the colors bear warm fruits,
aromas from other worlds,
Pulverized insects or barks that the years have tinted rose.
In us existence repeats as figures, rhombic shapes, the frets
Over which a phantasmal shuttle passes: a shuttle I do not hear,
A shuttle my hands do not move but I know that it is time,
The secret design that my death is to have some day.
And if at last we are only the unraveling of the dark skein,
Will a door open for the suns wandering in my blood,
That swarm of petals which are God and all my children,
Dusk-skinned weavers of the cup of tears we drink?
Between warp and weft, my destiny: invisible faces
Of the unknown future, which is only a tangle of roots
Singing beneath the earth, which is eternal
~ ~ ~

Ludwig Zeller, poet, editor and artist, born in Chile, emigrated to Canada and currently resides in Oaxaca. Among his many books you can find "The Marble Head and Other Poems " and "The Ghost's Tattoos".