La Cúpula in Teotitlán del Valle offers Zapotec cuisine to our Bed and Breakfast guests, as well as special menus for pre-arranged groups of visitors. The sample menus at the bottom of this page describe what can be prepared (advance notice required) for small groups during or after a rug-making demonstration or workshop.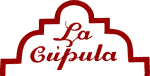 Maribel Alavez Vasques also offers Zapotec cooking classes and other regional specialities such as:
* Sopa de Guías (sweetcorn, zuchinni stems and blossoms, local herbs)

* 4 types of Mole (Black, Yellow, Red, Pipian sauces)

* Organic Salads with 3 types of lettuce
All dishes are freshly prepared and cooked with an emphasis on "slow" food. See our full menu below.
stee chi beu in Zapoteco = Salud = Cheers,
pronounced "stee-chee-bay-oo" in the central valley Zapotec dialect.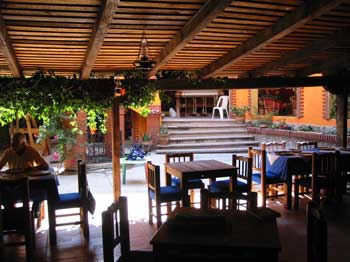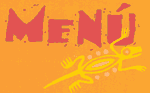 ENTRADAS / APPETIZERS
Queso Fundido con chorizo
Stringy, mozzarella-style cheese au gratin with spicy Oaxacan sausage

Queso Fundido con chistorra
Cheese au gratin with thin breakfast sausage

Quesadillas
Soft tortillas stuffed with melted cheese

Empanadas de mole amarillo
Stuffed tortillas with yellow mole sauce

Crema de Brocoli
Cream of Brocolli

Sopa de Guias
Soup made with fresh stems and blossoms of Zucchini, sweetcorn, and local herbs

Memelas
Small, soft tortillas topped with beans and fresh cheese

Tlayuda con asiento,frijol molido, aguacate, tomate y quesillo
Large crispy tortilla with ground pork skin, bacon drippings, refried beans, avocado, tomato and stringy, mozzarella-style cheese

ENSALADAS / ORGANIC SALADS
Lechuga (3 tipos), Pepino, Tomate, Queso, Aguacate, Nuez, Semilla de Calabaza, Pasas
Lettuce (3 types), Cucumber, Tomato, Fresh Cheese, Avocado, Nuts, Squash Seeds, Raisins
PARRILA / FROM THE GRILL
Tasajo
Oaxaca-style beef filet

Cecina Enchilada
Spicy pork filet

PLATILLOS / OAXACAN SPECIALITIES
Mole Negro con pollo
Chicken with a rich, spicy, chocolate and herb sauce, the classic Oaxacan black mole!

Mole Amarillo con pollo
Chicken with yellow mole sauce, accompanied with green beans, chayote and corn dumplings.

Enchiladas Oaxaqueñas
Tortillas stuffed with chicken and covered with red mole sauce (a blend of chiles, pecans, peanuts and sesame seeds).

Pipian
Shredded chicken marinated in anchiote chile, served with beans and rice.

Cegueza; maiz tostado con caldo de pollo, se sirve con una pieza de pollo
A chicken soup with roasted corn, served with a piece of chicken

Coloradito
Chicken with a red mole sauce made from chile ancho, sesame seeds and almonds.

Chiles Rellenos de Queso
Stuffed chile de agua with fresh cheese.

Botana Oaxaqueña (Quesillo, Queso, Empanadas, Memelas, Chorizo, Tasajo, Cecina) A selection of Oaxacan snacks including a stringy, mozzarella-style cheese, a fresh cheese, stuffed tortillas, memelas, spicy sausage, grilled beef filet, grilled pork filet)

POSTRES / DESSERT
Nieve (mango, mamey o nuez)
Natural-flavored sorbet (mango, mamey fruit or nut flavors)
Flan
Duraznos en almibar
Peaches in syrup
BEBIDAS / DRINKS
Mezcal "Del Maguey"

Freshly squeezed Orange water / Naranjada
Freshly squeezed Lemonade / Limonada
Hibiscus Flower flavored water / Jamaica
Soft Drinks / Refrescos
Coffee / Cafe de Olla
Special Menus for small groups (advance notice required):
Option #1: $100 pesos
Sopa de Guías (Elote,Chepil,Calabazitas.Guias loy Flor de Calabaza)
Mole Negro ,verde O Amarillo (pierna y muslo)
Nieve (mango,mamey o nuez)
Café o te

Option #2: $110 pesos
Sopa de Guias (Elote,Chepil,Calabacitas, Guias y Flor de Calabaza)
Tamales de mole Amarillo
Dulces Regionales con café ó Dulce de calabaza

Option #3: $120 pesos
Sopa de Guias
Botana Oaxaqueña
Postre: Duraznos en almibar o Nieve de Sabor

~ ~ ~
Testimonials:
" Muchas gracias por la comida rica, el servicio muy amable y el ambiente acojedor. "
Bea Lopez
" What a wonderful place! Your rugs are exquisite, your food, delicious and your hospitality, so welcoming. Thank you for a lovely Mexican experience. "
Carlene and Marshal Gaskins
" Thanks for the special service regarding my restricted diet. The tasajo was so fresh and delicate and fantastic beans. For the 18 years i've been buying rugs from your family i wish i could have been dining as well as today's discovery. Returning Soon, "
Scott Roth
" What a delightful spot with excellent enchiladas (much better than in Oaxaca!) - a welcome visit after a glorious tour of Yagul. Very welcoming and warm. "
Betti Segre, Philadelphia, PA.
" Thank you again Demetrio for your wonderful hospitality. You are an amazing artist. You and your wife are blessed with much talent. It is a pleasure to visit. "
Elena and Ian Croft